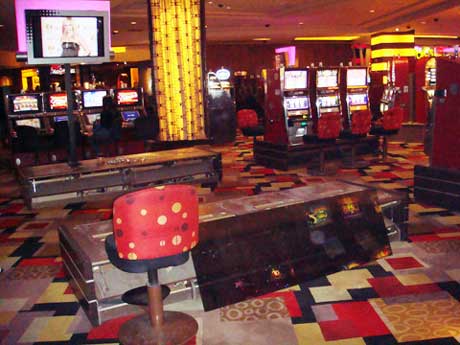 We just returned home from our latest Las Vegas adventure—a trip coinciding with Harrah's takeover of Planet Hollywood. Many Five Hundy listeners have inquired what changes are in store. Here's what we witnessed and learned:
Most video poker paytables have not yet changed. Machines at the Extra Lounge bar were downgraded before we arrived. Most other machines were the same as before—not full pay, but not as bad surrounding properties.
On Feb. 21, about 30 percent of the slot and video poker machines were labeled with stickers notifying gamblers the machines would be shut down at 9 p.m. By the next morning, dozens of machines were taken offline and crews were removing them from the slot floor. Three days later, they were still rearranging the slot floor. Signs around the casino assured visitors that we'll love their new look. Removal of machines is standard operating procedure when Harrah's takes over existing casinos. They instituted the less-is-more slot floor concept when acquiring Imperial Palace, Barbary Coast and O'Shea's too.
Planet Hollywood's A-List players club will merge into Harrah's Total Rewards players club on April 1, 2010. A-List points will be converted into TR reward credits and will be added to players' TR tier score. A-List gold card holders will receive TR platinum cards; A-List platinum card holders will receive TR diamond cards. No word on what happens for those of us with both TR platinum status and A-List gold status. I'm hoping platinum + gold = diamond. FAQ cards are available at the A-List desk. FAQ 1. FAQ 2.
Planet Hollywood will have its own diamond lounge. Construction is underway near the hotel registration desk.