One of the few things I miss about the TV series "Las Vegas" is seeing where The Montecito would appear on The Strip each week. From season to season, episode to episode and sometimes even scene to scene, the hotel's location varied. Although many of the exterior shots placed The Montecito on the south end of Las Vegas Blvd., shots from Big Ed's office placed the resort across the street from The Venetian and Harrah's.
Well, the magic of The Montecito is returning in the form of PH Towers. This new hotel/timeshare sister resort of Planet Hollywood is scheduled to open in November. While I'm anxious to check out the suites, the Celebrity Buffet and the pool area, the most impressive feature is PH Towers' defiance of the laws of both space and time.
For almost three years, construction of PH Towers has taken place on land behind Planet Ho. On the resort's Web site, both a map and a room photo showing Bellagio and Caesars across the street confirm this location.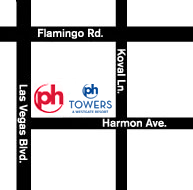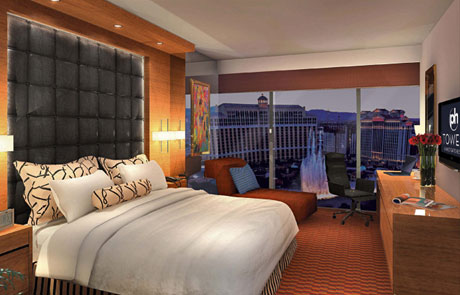 Additional photos on the site, however, indicate some of the resort's rooms are located just north and south of The Venetian. These rooms include not only fantastic views of The Strip, but apparently views from at least three years ago. Do you miss Stardust (RIP 2006) and New Frontier (RIP 2007)? Thanks to PH Towers, they're back.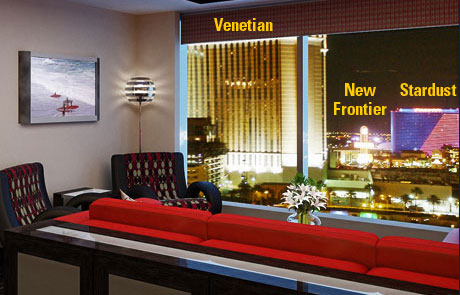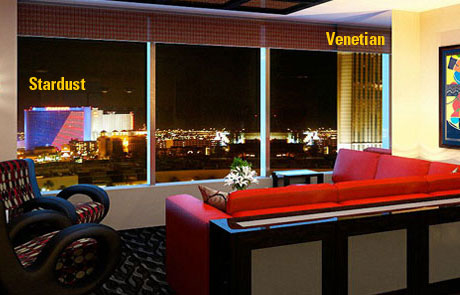 Few details about the Anywhere/Anytime Strip Suites have emerged, so I'm not sure what other views are available. Michele is hoping for a room overlooking the rotating shoe at The Silver Slipper, while I'd just like to see the "Future Home of Countryland U.S.A." marquee one more time.