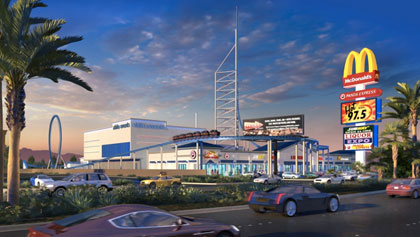 A few days ago, we began hearing that Speed: The Ride was finally being disassembled at the shuttered Sahara. According to a blog entry from the company doing the removal work, the roller coaster is headed for the Akita Plaza strip mall located across Las Vegas Boulevard from Mandalay Bay (not far from the alleged future home of the Skyvue ferris wheel).
A little more digging revealed additional details along with artist renderings.
Thanks to listener Allen for the tip.