As rumored, Fitzgeralds is about to become The D Las Vegas. @denvergambler, who has been ahead of everyone on The D name change uncovered this YouTube link, which has since gone private:

The currently empty YouTube channel hosting the video offers a little insight into the new name/theme. It seems "D" stands for "Detroit" and "Downtown."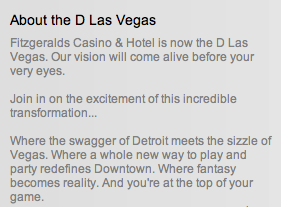 On Tuesday evening, we will be speaking with The D's head honcho, Derek Stevens, to get more information on the rebranding of The Fitz.