For the past several months, Golden Gate has been undergoing substantial renovations, including a new lobby, a high limit room, new restrooms, remodeled standard rooms and the addition of 16 suites. During our visit earlier this week, we were able to get a preview of one of the new suites.
Adorned in rich reds and browns, the room has a comfortable, classic vibe. The Dean Martin artwork is a nice touch, tying the suite to the vintage Vegas theme seen throughout the Golden Gate.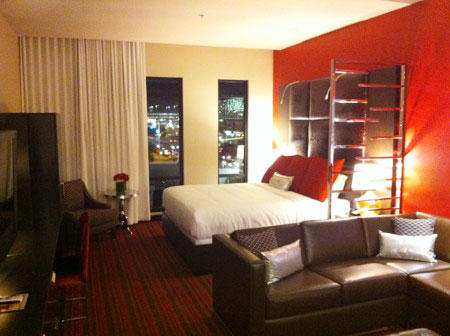 The large, L-shaped couch provides a nice spot to chill with a brown drink before hitting the casino.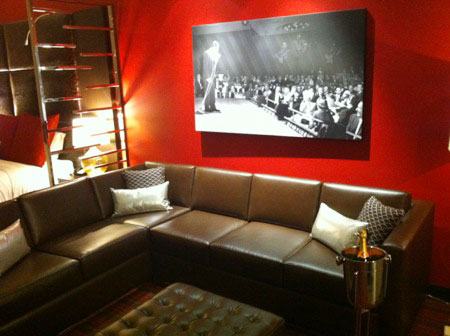 The massive, multi-purpose wall unit includes plenty of storage space, a work desk and a big-ass TV.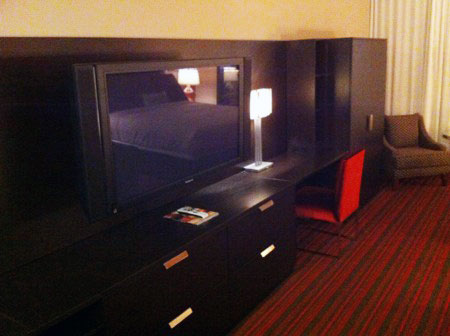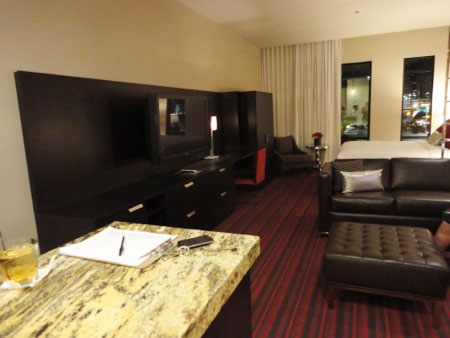 Like a lot of Las Vegas suites, there's no separation between the bedroom and the living room/lounging space. The Golden Gate suite layout takes the single-room suite concept one further, providing no separation between the bathroom and the rest of the suite.
Immediately upon entering the suite, a countertop and sink to the right sits in front of two frosted doors—one for the shower and one for the toilet. If you don't know your roommate well before staying here, you will by the time you leave because you'll probably see him or her naked.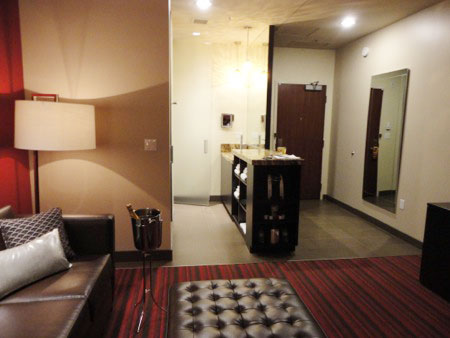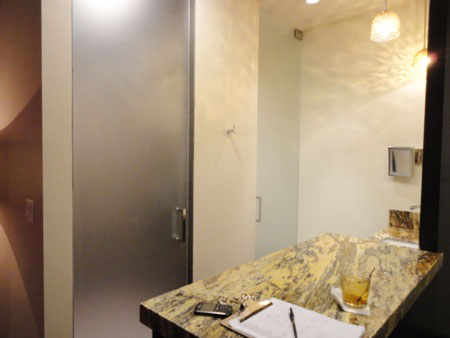 Fancy bathroom swag from Bath and Body Works. The scent is Rainkissed Leaves. I don't know what a rain-kissed leaf smells like, but I'm told it's delightful.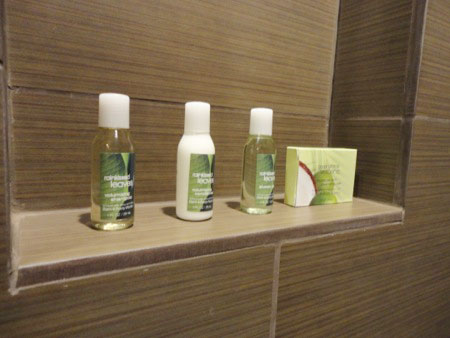 The new Golden Gate suites may not be the largest rooms on Fremont Street, but they're well-designed, comfortable and reasonably prices, starting at $109 during the week. For those of us who have avoided staying at Golden Gate because of the cracker-box-sized standard rooms, this provides a very nice option.
Two super-sized penthouse suites are still under construction but will be added to Golden Gate's new room mix later this year.