Thanks to the popularity of Flightlinez on Fremont Street, at least three Strip hotels may be getting zip lines of their own soon. According to a permit request from MGM Resorts International uncovered by @detroit1051, Luxor and Excalibur are planning up to four separate runs of four lines each. They would include:
Excalibur entrance to roof of the pedestrian covered walkway at the southwest corner of Tropicana Ave. and the Strip. (500 feet)
Top of the north side of the Luxor pyramid to the southwest corner of Excalibur. (950 feet)
Roof of the southwest corner of Excalibur to a new platform at the northwest corner of Luxor's east tower. (340 feet)
New platform at the southeast corner of Luxor's east tower to the roof of the Excalibur tram station. (1,440 feet)
Using my third-grade-level Photoshop skills, I put together a rough approximation of each zip line course's route: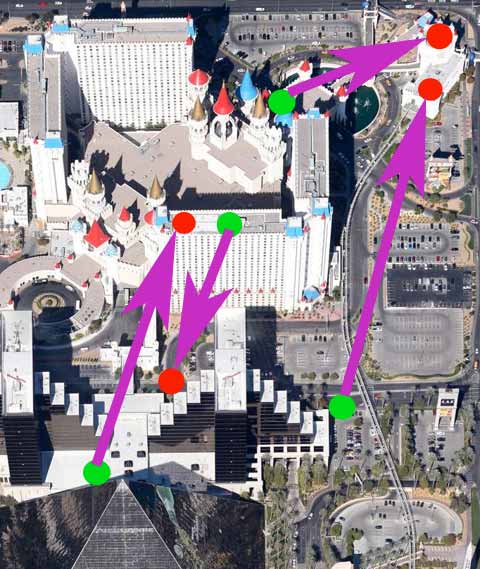 Meanwhile, across the street, Tropicana may be getting a zip line of its own. According to a recent Trop customer survey sent our way by @airportlimbo, "The zip line would run from the roof of our Club Tower down to the grassy area on the corner of Las Vegas Blvd. and Tropicana Blvd. Riders would 'fly' over a portion of our pool and beach club area and land in a new structure that includes a new restaurant and bar with exceptional views of the flyers from take-off to landing as well as of the Las Vegas Strip."
Based on that description, I'm thinking the route would look something like this: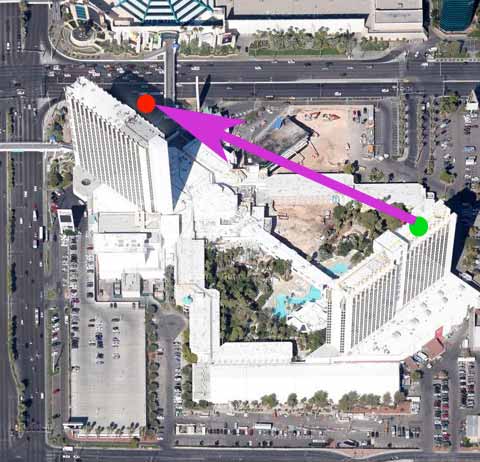 So, the race to build the first Las Vegas Strip zip line is on. So many questions:
Who will build one first?
Will it happen before a Las Vegas Strip ferris wheel opens?
Will the zip line cables interfere with Parabounce?