Since Binion's closed its hotel tower in 2009, rumblings and rumors about renovation plans have come and gone a bunch of times. Some of them were fueled by all-too-common, all-too-unreliable "inside sources," – typically a bartender who heard speculation from a friend who heard it from a friend who heard it from another you've been messin' around (© REO Speedwagon). At least one was based on an animated video on an investor website from owner TLC Casino Enterprises that showed garish rooms decorated in black and white cow hide patterns and cow skulls.
Binion's again has hotel renovation plans and is again seeking investors. This time, instead of dumping money into an animated video, TLC put together a brochure. I got my hands on a copy and, after closely reviewing it, I have a few observations about the plans.
Here's a glimpse of what's in store, according to the August 2019 edition of the brochure.
TLC's sales pitch to potential investors begins by pointing out Binion's great location near such bustling Fremont Street resorts as Las Vegas Club (RIP 2015) and Fitzgerald's (RIP 2012).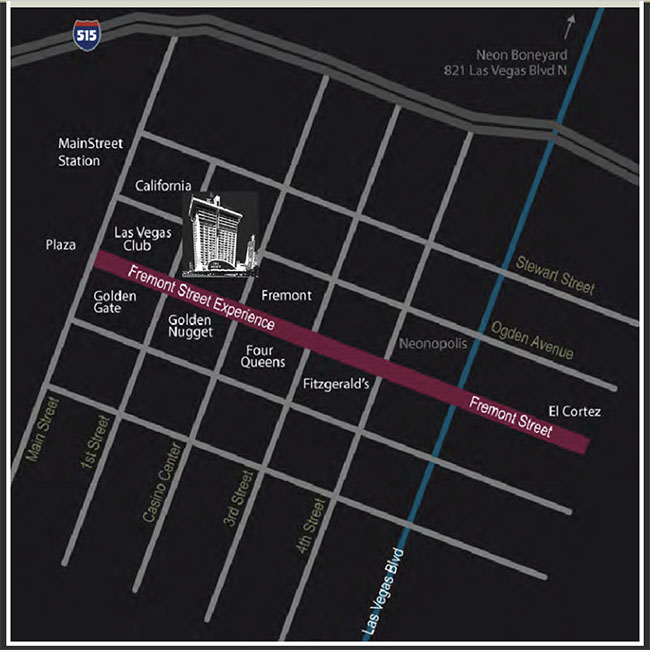 Renovations will include:
Hotel with 365 rooms
Restaurants
Rooftop pool and bar area
Lobby area
New construction will include:
Nightclub
Spa and salon
Gym
I love me some hotel renderings, and the Binion's brochure's got 'em. Let's start with the hotel's exterior.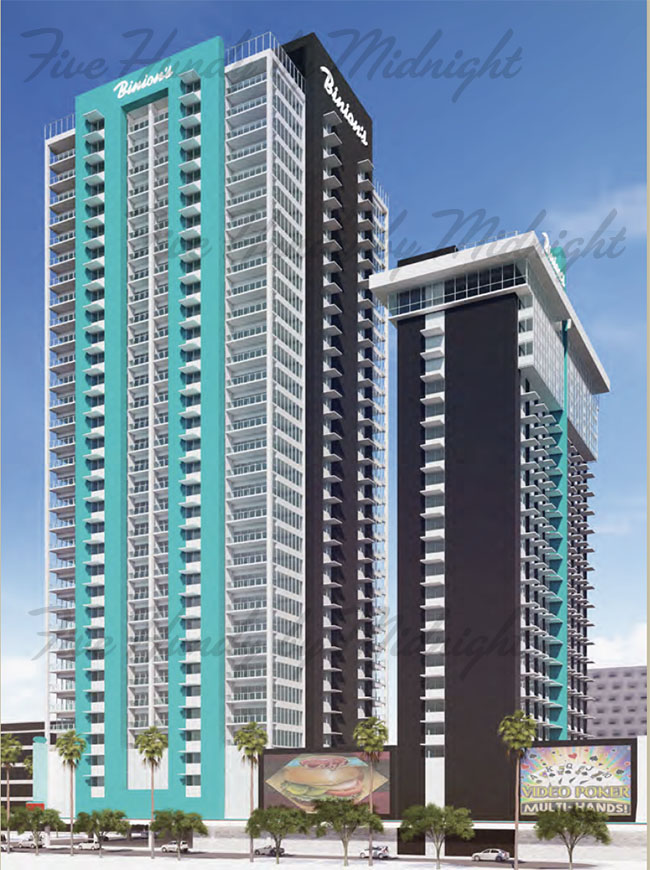 The tower on the right is clearly an updated version of the existing hotel tower, built in 1965 for The Mint and acquired by Binion's in 1988. The much larger tower on the left with Cosmopolitan-like terraces doesn't currently exist. With an overall project budget of $48 million and a room count matching the pre-closure room count, this tower doesn't seem to actually be part of the current Binion's plan, yet it's prominently featured in a brochure selling investors on that plan. Because why not?
Let's see what's planned for the interior renovations.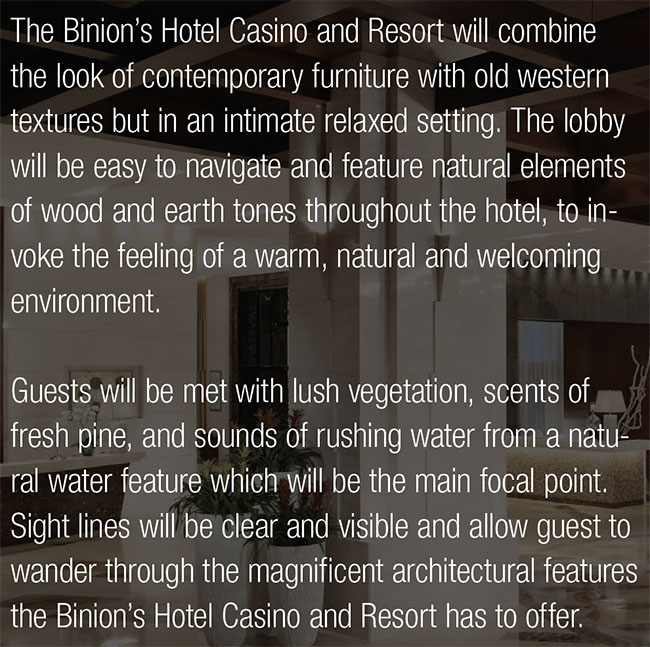 That sounds delightful! Here are a couple renderings of the lobby.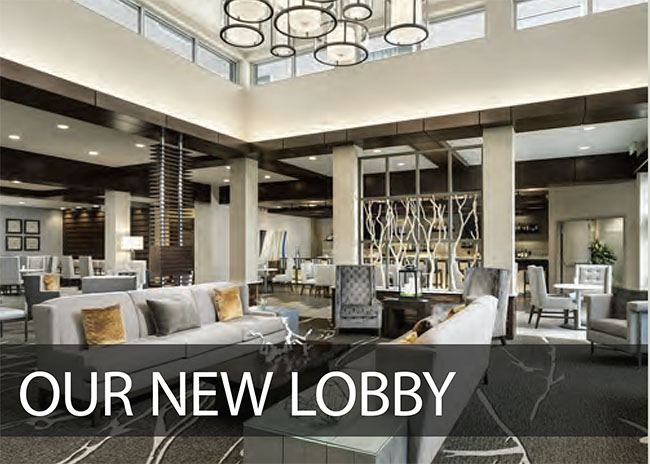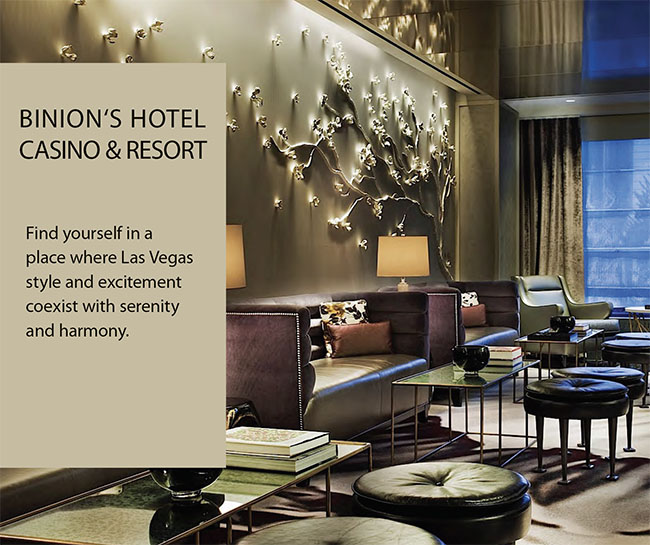 Snazzy! You won't find a lobby that looks like that in your run-of-the-mill Hilton Garden Inn in Palo Alto, or Lowes Regency in New York City.
The pool area renovations will include the addition of lavish cabanas.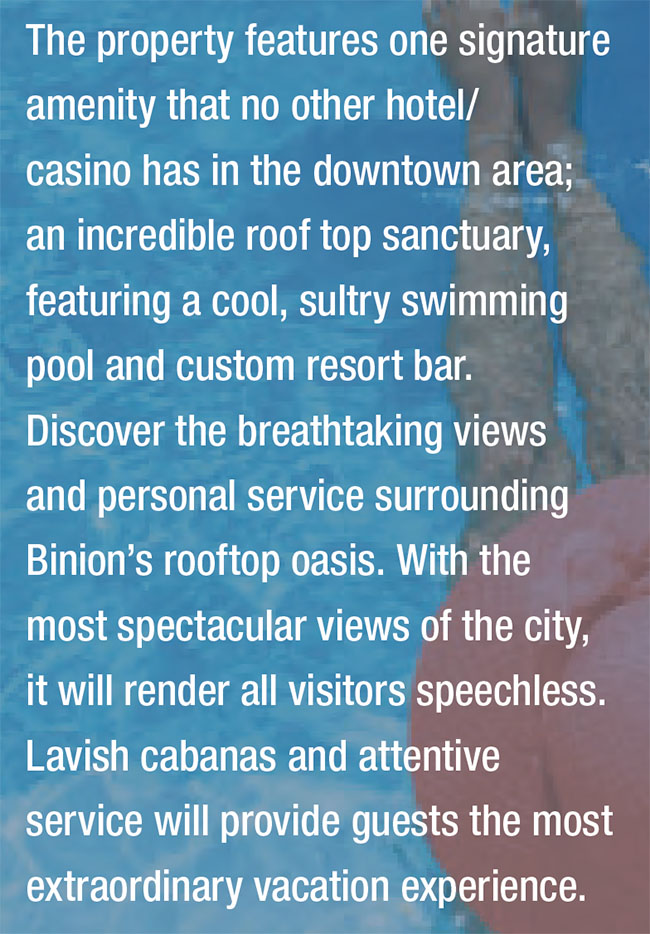 Binion's is really proud of its rooftop pool. The sales pitch boasts that no other downtown resort has one. This is absolutely true as long as you don't count Plaza, Downtown Grand, The Cal and soon Circa.
What's in store for the hotel suites?

They take on an authentic western feel – almost like something you'd find in a contemporary Colorado home designed by Andrea Schumacher, an Omni Hotel in Fort Worth or a Hotel Le Germain in Calgary. Almost.
If TLC puts as much TLC into renovating Binion's as it put into developing a current, high-quality sales brochure, complete with original renderings, it's sure to be a hit. Plenty of legitimate investors with deep pockets and poor Google image search skills will no doubt be interested.
Grand opening date: TBA.