Gordon Ramsay Steak at Paris Las Vegas has been receiving raves, and plans for a Gordon Ramsay gastropub in the Bradley Ogden space is the worst-kept secret of the year. Next up for Gordo may be a burger joint at Planet Hollywood, based on questions in a Total Rewards survey I received and completed this morning.
The survey's restaurant description said:
"Located center Strip at Planet Hollywood Resort & Casino, Gordon Ramsay's GR Burger brings new life to one of the most energetic areas of Las Vegas. GR Burger will introduce a stylish modern ambience, youthful energy and sporty vibe—a departure from your typical burger joints.

"Here, guests can enjoy a contemporary menu, diverse specialty drinks and self-serve beers on tap, coupled with uncompromised sports and entertainment viewing.

"Gordon Ramsay's GR Burger will also have an open kitchen to add to the excitement—watch our cooks prepare your burgers over an open hardwood flame grill."
Renderings: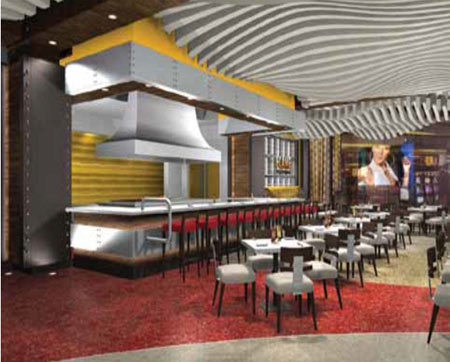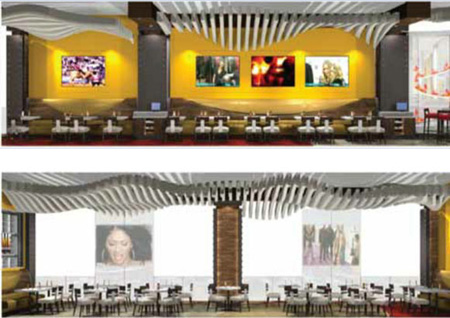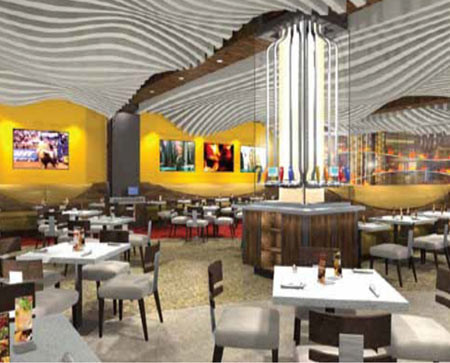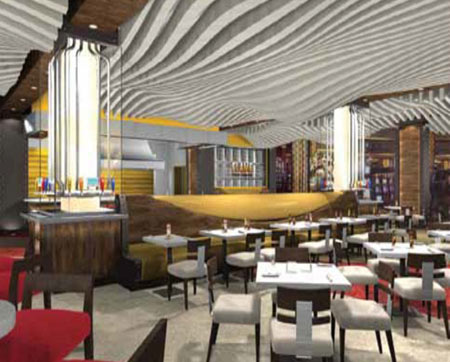 Every couple months I receive a Total Rewards surveys about one possible concept or another. Five Hundy listeners have reported receiving similar (sometimes slightly variations on the same) surveys. Recent questions have covered a possible Golden Corral Buffet at Imperial Palace and various name concepts for the new buffet at Caesars Palace.
With anything at the market research stage, there's a decent chance it may never happen. However, with reports last year saying Ramsay would be opening at least three restaurants in Las Vegas, I'm thinking we'll be seeing GR Burger (or at least the burger joint concept perhaps with a different name) at Planet Hollywood in 2013.
Update: Other names being market-tested include Fat Cow Burger, Flame Burger, Gobsmacked Burger and G-Spot.